This page, Chuu Chuu no Mi, is currently under construction. Please bear with the changes made by the author.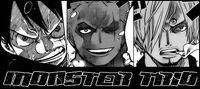 This article, Chuu Chuu no Mi, is the sole property of Subrosian. Any edits in this page without his permission will suffer the wrath of the Monster Trio. You have been warned.
The Chuu Chuu no Mi is a Paramecia-type Devil Fruit that allows the user to create syringes and hypodermic needles. This ability makes the person an Injection Human (注射人間 Chuusha Ningen). The word "Chuu" is derived from chuusha, which means "injection." It was consumed by Lily Dia.
Chuu Chuu no Mi
Statistics
Japanese Name:
チューチューの実
English Name:
Inject-Inject Fruit
Meaning:
Injection
Power:
Injections
Type:
Paramecia
Eaten by:
Lily Dia
Created by:
Subrosian
Strengths
Edit
The main strength of this Devil Fruit is that it allows Dia to create syringes and hypodermic needles. She can also transform her hands into them as well. After having created the syringes, Dia can drain things that have been struck by the needle. The most practical use for this is sucking the life force out of anyone unfortunate enough to be plucked by Dia's giant syringe.
She is not limited to only the life force of other people, but she can also drain nearly anything liquid based unless it is corrosive or destructive enough to shatter the glass of her syringe.
Weaknesses
Edit
Since the syringes are made of glass, they can be destroyed and it will return whatever was stored inside of the container regardless of distance or location. While Dia can steal the life force right out of living people, she is incapable of draining things like acids or liquids of extreme heat like lava.
Aside from that, the standard Devil Fruit weakness applies. It is likely that if she were to fall into water, her syringes would subsequently be dispelled and return their contents to their respective owners.
Withdraw: Dia's default ability, this allows her to drain things out of objects, most notably the life force of people.
Inject: Dia can take whatever is contained in her syringe and put it back into something, and it would be particularly devastating if the liquid were lethal.
Zoan

Amphibians

:
Ryo Ryo no Mi, Model: Salamander

Ancient Zoan

:
Inu Inu no Mi, Model: Dire Wolf

Arthropods

:
Kumo Kumo no Mi, Model: Scorpion

Birds

:
Kamo Kamo no Mi, Model: Platypus  •  Tori Tori no Mi, Model: Bald Eagle  •  Tori Tori no Mi, Model: Great Horned Owl  •  Tori Tori no Mi, Model: Hawk  •  Tori Tori no Mi, Model: Penguin  •  Tori Tori no Mi, Model: Pigeon  •  Tori Tori no Mi, Model: Raven

Insect Zoan

:
Mushi Mushi no Mi, Model: Butterfly  •  Mushi Mushi no Mi, Model: Centipede  •  Mushi Mushi no Mi, Model: Praying Mantis

Mammals

:
Garou Garou no Mi  •  Gesshi Gesshi no Mi, Model: Squirrel  •  Gesshi Gesshi no Mi, Model: Rat  •  Hito Hito no Mi, Model: Ghost  •  Hito Hito no Mi, Model: Neanderthal  •  Itachi Itachi no Mi, Model: Skunk  •  Kuma Kuma no Mi, Model: Grizzly Bear  •  Kuma Kuma no Mi, Model: Panda  •  Mori Mori no Mi, Model: Silver Haired Bat  •  Mori Mori no Mi, Model: Vampire Bat  •  Neko Neko no Mi, Model: Black Panther  •  Neko Neko no Mi, Model: Cougar  •  Neko Neko no Mi, Model: Housecat  •  Neko Neko no Mi, Model: Lion  •  Neko Neko no Mi, Model: Lion - World Reversion  •  Neko Neko no Mi, Model: Snow Leopard  •  Neko Neko no Mi, Model: Tiger  •  Uma Uma no Mi, Model: Rhinoceros  •  Usagi Usagi no Mi, Model: Rabbit  •  Ushi Ushi no Mi, Model: Bull  •  Ushi Ushi no Mi, Model: Cow  •  Ushi Ushi no Mi, Model: Minotaur  •  Yagi Yagi no Mi, Model: Deer  •  Yuitai Yuitai no Mi, Model: Red Kangaroo

Mythical Zoan

:
Enma Enma no Mi  •  Feri Feri no Mi  •  Inu Inu no Mi, Model: Hellhound  •  Inu Inu no Mi, Model: Nine-Tailed Fox  •  Ga-go Ga-go no Mi, Model: Chimera  •  Neko Neko no Mi, Model: Manticore  •  Ōkami Ōkami no Mi, Model: Raijū  •  Ryu Ryu no Mi  •  Ryu Ryu no Mi, Model: Steel Dragon  •  Tatsu Tatsu no Mi  •  Tori Tori no Mi, Model: Thunderbird  •  Ryu Ryu no Mi, Model: Ice Dragon

Plants

:
Koha Koha no Mi, Model: Venus Flytrap

Reptiles

:
Hebi Hebi no Mi, Model: Indian Cobra  •  Toka Toka no Mi, Model: Chameleon  •  Toka Toka no Mi, Model: Komodo Dragon  •  Wani Wani no Mi, Model: Gharial