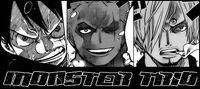 This article, Futa Futa no Mi, is the sole property of Subrosian. Any edits in this page without his permission will suffer the wrath of the Monster Trio. You have been warned.
The Futa Futa no Mi is a Paramecia-type Devil Fruit that makes the user androgynous. It was eaten by Sub R. Osian, Captain of the Anonymous Pirates.
Futa Futa no Mi
Statistics
Japanese Name:
ふたふたの実
English Name:
Andro Andro Fruit
Meaning:
Androgyny
Power:
Makes the user androgynous in gender
Type:
Paramecia
Eaten by:
Sub R. Osian
Created by:
Subrosian
Appearance
Edit
The fruit appears to be a peach with swirls on it.
Strengths
Edit
There are no actual strengths for the fruit, as it is considered an utterly worthless fruit in terms of Devil's Fruit.
Weaknesses
Edit
The only known weakness is the standard Devil Fruit weakness.
Sub uses it to be two genders at one time, shifting between acting male and female on a whim to confuse people around him.
The Futa Futa no Mi Devil Fruit, and this article was created by Subrosian.
Zoan

Amphibians

:
Ryo Ryo no Mi, Model: Salamander

Ancient Zoan

:
Inu Inu no Mi, Model: Dire Wolf

Arthropods

:
Kumo Kumo no Mi, Model: Scorpion

Birds

:
Kamo Kamo no Mi, Model: Platypus  •  Tori Tori no Mi, Model: Bald Eagle  •  Tori Tori no Mi, Model: Great Horned Owl  •  Tori Tori no Mi, Model: Hawk  •  Tori Tori no Mi, Model: Penguin  •  Tori Tori no Mi, Model: Pigeon  •  Tori Tori no Mi, Model: Raven

Insect Zoan

:
Mushi Mushi no Mi, Model: Butterfly  •  Mushi Mushi no Mi, Model: Centipede  •  Mushi Mushi no Mi, Model: Praying Mantis

Mammals

:
Garou Garou no Mi  •  Gesshi Gesshi no Mi, Model: Squirrel  •  Gesshi Gesshi no Mi, Model: Rat  •  Hito Hito no Mi, Model: Ghost  •  Hito Hito no Mi, Model: Neanderthal  •  Itachi Itachi no Mi, Model: Skunk  •  Kuma Kuma no Mi, Model: Grizzly Bear  •  Kuma Kuma no Mi, Model: Panda  •  Mori Mori no Mi, Model: Silver Haired Bat  •  Mori Mori no Mi, Model: Vampire Bat  •  Neko Neko no Mi, Model: Black Panther  •  Neko Neko no Mi, Model: Cougar  •  Neko Neko no Mi, Model: Housecat  •  Neko Neko no Mi, Model: Lion  •  Neko Neko no Mi, Model: Lion - World Reversion  •  Neko Neko no Mi, Model: Snow Leopard  •  Neko Neko no Mi, Model: Tiger  •  Uma Uma no Mi, Model: Rhinoceros  •  Usagi Usagi no Mi, Model: Rabbit  •  Ushi Ushi no Mi, Model: Bull  •  Ushi Ushi no Mi, Model: Cow  •  Ushi Ushi no Mi, Model: Minotaur  •  Yagi Yagi no Mi, Model: Deer  •  Yuitai Yuitai no Mi, Model: Red Kangaroo

Mythical Zoan

:
Enma Enma no Mi  •  Feri Feri no Mi  •  Inu Inu no Mi, Model: Hellhound  •  Inu Inu no Mi, Model: Nine-Tailed Fox  •  Ga-go Ga-go no Mi, Model: Chimera  •  Neko Neko no Mi, Model: Manticore  •  Ōkami Ōkami no Mi, Model: Raijū  •  Ryu Ryu no Mi  •  Ryu Ryu no Mi, Model: Steel Dragon  •  Tatsu Tatsu no Mi  •  Tori Tori no Mi, Model: Thunderbird  •  Ryu Ryu no Mi, Model: Ice Dragon

Plants

:
Koha Koha no Mi, Model: Venus Flytrap

Reptiles

:
Hebi Hebi no Mi, Model: Indian Cobra  •  Toka Toka no Mi, Model: Chameleon  •  Toka Toka no Mi, Model: Komodo Dragon  •  Wani Wani no Mi, Model: Gharial