This page, Kokei Kokei no Mi, is currently under construction. Please bear with the changes made by the author.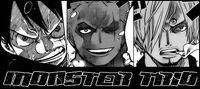 This article, Kokei Kokei no Mi, is the sole property of Subrosian. Any edits in this page without his permission will suffer the wrath of the Monster Trio. You have been warned.
The Kokei Kokei no Mi is a Paramecia-type Devil Fruit that grants the user a rock-solid body, this ability makes the person a Solid Human (ソリッド人間 Soriddo Ningen). The word "Kokei" is derived from the phrase "a solid body."
Kokei Kokei no Mi
Statistics
Japanese Name:
固形固形の実
English Name:
Solid-Solid Fruit
Meaning:
Solid
Power:
Rock-solid body
Type:
Paramecia
Eaten by:
N/A
Created by:
Subrosian
Appearance
Edit
The Kokei Kokei no Mi is a blue papaya with a solid look to it.
Strengths
Edit
The main strength of this Devil Fruit is that it grants the consumer a body that possesses invulnerability to all types of physical damage. This includes blunt, slashing, piercing and even explosive attacks. It is an ability that is constantly active so they do not need to focus on it in order to activate it like a similar Devil Fruit that augments defense.
Aside from its defensive capabilities, it also enhances the strength of the user to inhuman levels. Something as simple as a tap on the shoulder can break bones and a full on punch from the consumer is equivalent to being hit by a brick wall.
Weaknesses
Edit
Although the user is immune to all types of physical damage, anything that is immaterial in nature can damage them to the full extent. So anything like ice, electricity or extreme heat would be able to hurt them.
The solidarity of their body can, in rare occasions, be overtaxed by something that produces an equal amount of force to what the user can produce. In essence, if they were hit by their own attack it would cancel out the invulnerability of their defense and injure them.
Similarly, anyone capable of utilizing Busoshoku Haki will also break right through the shield and do full damage to the person, possibly even more considering it is imbued with Haki.
The attacks utilized by the consumer are very simple, often being named by parts of the body such as palm, elbow, or fist.
Palm (パーム Paamu): A straight thrust with the heel of the palm, the force spread along the entirety of the hand usually enhances the amount of damage that is transferred to the target, ensuring massive damage.
Elbow (エルボー Eruboo): An elbow strike. The density of the bone coupled with the strength of the Devil Fruit makes this attack particularly devastating.
Knee (ニー Nii): An upward knee strike, usually used in close proximity. A variant of this is Flying Knee (フライングニー Furaingu Nii) which is exactly what it claims to be.
Zoan

Amphibians

:
Ryo Ryo no Mi, Model: Salamander

Ancient Zoan

:
Inu Inu no Mi, Model: Dire Wolf

Arthropods

:
Kumo Kumo no Mi, Model: Scorpion

Birds

:
Kamo Kamo no Mi, Model: Platypus  •  Tori Tori no Mi, Model: Bald Eagle  •  Tori Tori no Mi, Model: Great Horned Owl  •  Tori Tori no Mi, Model: Hawk  •  Tori Tori no Mi, Model: Penguin  •  Tori Tori no Mi, Model: Pigeon  •  Tori Tori no Mi, Model: Raven

Insect Zoan

:
Mushi Mushi no Mi, Model: Butterfly  •  Mushi Mushi no Mi, Model: Centipede  •  Mushi Mushi no Mi, Model: Praying Mantis

Mammals

:
Garou Garou no Mi  •  Gesshi Gesshi no Mi, Model: Squirrel  •  Gesshi Gesshi no Mi, Model: Rat  •  Hito Hito no Mi, Model: Ghost  •  Hito Hito no Mi, Model: Neanderthal  •  Itachi Itachi no Mi, Model: Skunk  •  Kuma Kuma no Mi, Model: Grizzly Bear  •  Kuma Kuma no Mi, Model: Panda  •  Mori Mori no Mi, Model: Silver Haired Bat  •  Mori Mori no Mi, Model: Vampire Bat  •  Neko Neko no Mi, Model: Black Panther  •  Neko Neko no Mi, Model: Cougar  •  Neko Neko no Mi, Model: Housecat  •  Neko Neko no Mi, Model: Lion  •  Neko Neko no Mi, Model: Lion - World Reversion  •  Neko Neko no Mi, Model: Snow Leopard  •  Neko Neko no Mi, Model: Tiger  •  Uma Uma no Mi, Model: Rhinoceros  •  Usagi Usagi no Mi, Model: Rabbit  •  Ushi Ushi no Mi, Model: Bull  •  Ushi Ushi no Mi, Model: Cow  •  Ushi Ushi no Mi, Model: Minotaur  •  Yagi Yagi no Mi, Model: Deer  •  Yuitai Yuitai no Mi, Model: Red Kangaroo

Mythical Zoan

:
Enma Enma no Mi  •  Feri Feri no Mi  •  Inu Inu no Mi, Model: Hellhound  •  Inu Inu no Mi, Model: Nine-Tailed Fox  •  Ga-go Ga-go no Mi, Model: Chimera  •  Neko Neko no Mi, Model: Manticore  •  Ōkami Ōkami no Mi, Model: Raijū  •  Ryu Ryu no Mi  •  Ryu Ryu no Mi, Model: Steel Dragon  •  Tatsu Tatsu no Mi  •  Tori Tori no Mi, Model: Thunderbird  •  Ryu Ryu no Mi, Model: Ice Dragon

Plants

:
Koha Koha no Mi, Model: Venus Flytrap

Reptiles

:
Hebi Hebi no Mi, Model: Indian Cobra  •  Toka Toka no Mi, Model: Chameleon  •  Toka Toka no Mi, Model: Komodo Dragon  •  Wani Wani no Mi, Model: Gharial