Do not edit without permission!

---

This article, Legacy Jewel , is sole property of c5l6t4.
Any alteration to this page will need permission from the author.You have been warned!
Legacy Jewel, also known as "Ice Queen Jewel", is a former princess and the captain of the Jewel Pirates. Like many other pirates, her dream is to find and obtain the legendary treasure One Piece.
Legacy Jewel
Statistics
Age
18
Gender
Female
Species
Neko Human
Blood type
S
Birth date
November 13
Height
147 cm (4'10")
Weight
40 kg (88 lbs)
Birth place
Nekohito Island, Grand Line
Occupation
Pirate
Epithet
Ice Queen
Crew
Jewel Pirates
Position
Captain
Family
J.K. Howes (adopted sister)
Bounty
330,000,000
Dream
Find One Piece
Devil Fruit
Japanese Name
Ryu Ryu no Mi, Moderu: Aisudoragon
English Name:
Dragon Dragon Fruit: Ice Dragon Model
Meaning:
Dragon
Type:
Zoan
She was born as the heir to the royal family in Nekohito Island, however, ran away with her parents to live a free life. At some point, after hiding away and posing as a normal human for 7 years, she has eaten the Ryu Ryu no Mi, Model: Ice Dragon, and also have met and befriended Jenna, who later became her adopted sister. Both of them decided to set sail and become pirates a few months later, with Jewel becoming a captain of her own crew. She tends to use numerous aliases to keep her identity from being found out so that her maternal grandmother could not find her and force her back into her royal duties, this means her real name is only known to a selective few.
Jewel has a worldwide reputation for surviving impossible escapes, such as: breaking out of Impel Down, surviving a Buster Call, and numerous near-death experiences due to her health, additionally having many enemies, aside from the Marines, World Government, and Bounty Hunters, she has acquired several enemies even before she decided on a life of piracy.
Appearance
Edit
She has a petite but fairly well-endowed body, dark brown hair and eyes, black cat ears, tail, and has fair skin. She wears a pink puff-sleeve dress with a dark pink frilly collar and prints of her jolly roger. She also sports a maroon newsboy cap and knee high boots with short heels, a black newsboy cap with her jolly roger, and a black leather wristband with a skull and crossbones. She keeps a choker with a silver bell, as well as a daisy in a vial necklace around her neck, these two accessories she is rarely seen without.
Other than her main choice of wardrobe, Jewel's taste in fashion mostly consists of a mixture of steam punk attire, lolita dresses, and any outfit that has frills. However, she prefers to wear dresses or skirts due to it being comfortable with her long tail.
She also has a tattoo of her Jolly Roger on her upper back. Noticeable changes with her pupils can occur when she is feeling a strong emotion, such as: her pupils dilating when she is excited, aroused, or playful; her pupils slitting when she is unhappy, hostile, or in shock.
Personality
Edit
Jewel has been labeled as "random" by many people, often being happy and energetic at one point then turning serious and grim the next. However she is cheerful whenever she is around other people and would always wear a smile on her face, not to mention her natural clumsiness, this often leads people to believe that she is merely harmless. Her royal upbringing made her a bit spoiled so she loves to be pampered, although she has some self-control and knows when she cannot have something.
A playful side to Jewel is shown when she sees cute/cool things and her strange obsession with
pandas. But in spite of her kindness, patience, and overall bubbly personality, she is actually sarcastic, rude, and slightly sadistic. She will not hesitate to harm her opponents, even if they are her friends, but only within reason. Jewel is a secretive person as she uses multiple aliases to keep her identity from being found out. Her little trust towards others are also a cause for her secrecy, however, she will not keep any honest truth from anyone if it is crucial to the situation.
Because of her slight naivety, her mind can be manipulated if she does not see any form of mistrust towards a person. Jewel values faith and loyalty from her friends and, if betrayed, she will show them detachment (perhaps even a punishment) from their treachery.
Powers and Abilities
Edit
Physical Abilities
Edit
Because of her neko-human genes, Jewel has acquired feline physiology and has several physical traits that are proven useful whether or not she is in combat. Aside from her cat-like stealth, she has enhanced senses, vision, jump, bite, and flexibility. Jewel is also able to extend and retract her claws, using them to climb or simply to attack her enemies.
Jewel has awakened Conqueror's Haki, however not much is known about how well she is able to use it since she has little control over the ability.
Devil Fruit
Edit
After consuming the Ryu Ryu no Mi, Model: Ice Dragon, she is able to transform herself into an ice dragon or a hybrid of the form. Her usage of her Devil Fruit is on a different level, as she can transform selective parts of her body into an ice dragon or sprout wings or change her tail with ease. The effect of the fruit has also changed her body temperature to below freezing, but she is not in any way bothered by it. Because of this side-effect she is able to survive in cold climates.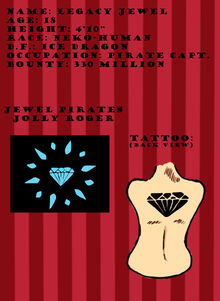 Ad blocker interference detected!
Wikia is a free-to-use site that makes money from advertising. We have a modified experience for viewers using ad blockers

Wikia is not accessible if you've made further modifications. Remove the custom ad blocker rule(s) and the page will load as expected.