This page, Zoku Zoku no Mi, is currently under construction. Please bear with the changes made by the author.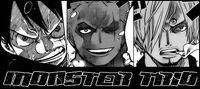 This article, Zoku Zoku no Mi, is the sole property of Subrosian. Any edits in this page without his permission will suffer the wrath of the Monster Trio. You have been warned.
The Zoku Zoku no Mi is a Logia-type Devil Fruit that grants the user the ability to transform into and control liquid metal.
Zoku Zoku no Mi
Statistics
Japanese Name:
ぞくぞくの実
English Name:
Alloy Alloy Fruit
Meaning:
Liquid Metal
Power:
Grants the user the ability to transform into and manipulate liquid metal
Type:
Logia
Eaten by:
Ignis
Created by:
Subrosian
Strengths
Edit
The main strength of the fruit like many others of its type is the ability to shift into the element to completely avoid taking damage. Ignis is capable of shifting his body parts into weaponry and other solid objects and can even morph their physical appearance at will, but only things of equal shape and form to itself.
Weaknesses
Edit
There are very few weaknesses to the fruit that can be exploited, but Ignis does have an innate vulnerability to fire and ice, but only in a temporary sense. The heat can cause the liquid form to become misshapen and useless while the sub zero temperatures can solidify him and prevent him from transforming at all. An extremely high temperature could theoretically dissolve the alloy form completely and end up killing Ignis.
Otherwise, the standard Devil Fruit weaknesses apply.
Ignis can shift his body parts into a variety of solid objects ranging from blade edge weapons to defensive weapons like shields. He is also capable of shifting his form into the appearance of another person, but is unable to shift into objects that are smaller than him or exist with mechanically or chemically moving parts.
None of Ignis' attacks have traditional names and these are just simply what he does with his power or how he uses it.
Suffocation: Ignis can somehow trap an enemy within himself and cause them to suffocate from being stuck within his liquid metal body.
Blade: Ignis transforms his body parts into a cutting weapon to slice apart his enemy.
Hammer: Ignis transforms his body parts into a smashing weapon to crush his enemy.
The Zoku Zoku no Mi Devil Fruit and this article was created by Subrosian.
The concept of the Devil Fruit stems from the pre-existing ideas of the Dungeons & Dragons Monster Living Steel as well as the T-1000 from the Terminator movie series.
Zoan

Amphibians

:
Ryo Ryo no Mi, Model: Salamander

Ancient Zoan

:
Inu Inu no Mi, Model: Dire Wolf

Arthropods

:
Kumo Kumo no Mi, Model: Scorpion

Birds

:
Kamo Kamo no Mi, Model: Platypus  •  Tori Tori no Mi, Model: Bald Eagle  •  Tori Tori no Mi, Model: Great Horned Owl  •  Tori Tori no Mi, Model: Hawk  •  Tori Tori no Mi, Model: Penguin  •  Tori Tori no Mi, Model: Pigeon  •  Tori Tori no Mi, Model: Raven

Insect Zoan

:
Mushi Mushi no Mi, Model: Butterfly  •  Mushi Mushi no Mi, Model: Centipede  •  Mushi Mushi no Mi, Model: Praying Mantis

Mammals

:
Garou Garou no Mi  •  Gesshi Gesshi no Mi, Model: Squirrel  •  Gesshi Gesshi no Mi, Model: Rat  •  Hito Hito no Mi, Model: Ghost  •  Hito Hito no Mi, Model: Neanderthal  •  Itachi Itachi no Mi, Model: Skunk  •  Kuma Kuma no Mi, Model: Grizzly Bear  •  Kuma Kuma no Mi, Model: Panda  •  Mori Mori no Mi, Model: Silver Haired Bat  •  Mori Mori no Mi, Model: Vampire Bat  •  Neko Neko no Mi, Model: Black Panther  •  Neko Neko no Mi, Model: Cougar  •  Neko Neko no Mi, Model: Housecat  •  Neko Neko no Mi, Model: Lion  •  Neko Neko no Mi, Model: Lion - World Reversion  •  Neko Neko no Mi, Model: Snow Leopard  •  Neko Neko no Mi, Model: Tiger  •  Uma Uma no Mi, Model: Rhinoceros  •  Usagi Usagi no Mi, Model: Rabbit  •  Ushi Ushi no Mi, Model: Bull  •  Ushi Ushi no Mi, Model: Cow  •  Ushi Ushi no Mi, Model: Minotaur  •  Yagi Yagi no Mi, Model: Deer  •  Yuitai Yuitai no Mi, Model: Red Kangaroo

Mythical Zoan

:
Enma Enma no Mi  •  Feri Feri no Mi  •  Inu Inu no Mi, Model: Hellhound  •  Inu Inu no Mi, Model: Nine-Tailed Fox  •  Ga-go Ga-go no Mi, Model: Chimera  •  Neko Neko no Mi, Model: Manticore  •  Ōkami Ōkami no Mi, Model: Raijū  •  Ryu Ryu no Mi  •  Ryu Ryu no Mi, Model: Steel Dragon  •  Tatsu Tatsu no Mi  •  Tori Tori no Mi, Model: Thunderbird  •  Ryu Ryu no Mi, Model: Ice Dragon

Plants

:
Koha Koha no Mi, Model: Venus Flytrap

Reptiles

:
Hebi Hebi no Mi, Model: Indian Cobra  •  Toka Toka no Mi, Model: Chameleon  •  Toka Toka no Mi, Model: Komodo Dragon  •  Wani Wani no Mi, Model: Gharial